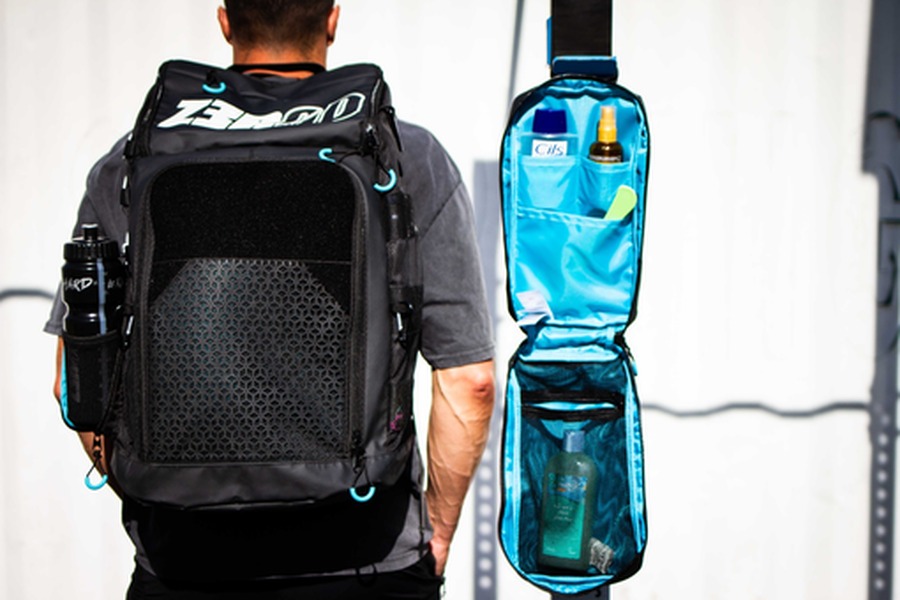 🆕 Discover our new Sports Backpacks!
This Z3R0D Sports backpack combines functionality, style and comfort, thanks to its padding at the back. Whether for traveling, training or competing, this sports bag is a perfect companion for all sport activities and workouts. It comes in handy with all kinds of details. This backpack features several pockets and compartments, each with a specific function, to ensure that everything can be neatly organized and easily accessible. Its big capacity makes it ideal for week-ends too.
The main pocket is zipped at the top and opens on a large and spacious compartment which also features 2 internal pockets to store gear and accommodate a range of items, including towels, clothing, and a water bottle.
The interior is lined with a water-resistant material to protect the contents from moisture and ensure that everything stays dry. In addition to the main compartment, there are several other pockets and compartments to store a smartphone, keys, a watch or any other personal item.
The outside features a grid mesh like the one of our Transition Bag, ideal for wet items like a towel or swimsuit.
The backpack is also equipped with adjustable and padded straps, making it comfortable to wear even when fully loaded. The back panel is also padded, providing extra cushioning and support for the wearer.
This backpack features 3 velcro straps on the side to hang our multi-function case - the UT Case - sold separately.
All the above specs make this bag highly practical and versatile to carry the training equipment and personal belongings to and from the pool.
Available in black or dark blue.
Characteristics:
- central pocket with inside compartment
- front pocket with perforated mesh
- small front pocket easily reachable (to store your phone, keys,ID)
- double side pocket for 2 water bottles on the left side
- zipepd pocket on the top
- tightening strap on the left
- velcro straps on the right side for the sports UT case (sold separately)
- composition : 100% Polyester
- dimensions: 60 cm height - 25 cm depth - 40 cm width
- capacity: 43L
- made in China
The multifunction Z3R0D Sports UT case is the accessory that comes in addition to the Sports Backpack. The foam side enables to hang it on the side of the bag with the 3 velcro straps. It features a zipper and a handle at the top with a carabiner to secure the position on the side of the bag.
In the inside, there is a zipped mesh pocket on one side and 6 small compartments on the other side to carry hygiene products and creams.
This case will be perfect to carry small personal belongings with direct access.
Available in black or dark blue.
Characteristics:
- made in China
- composition: 100% polyester