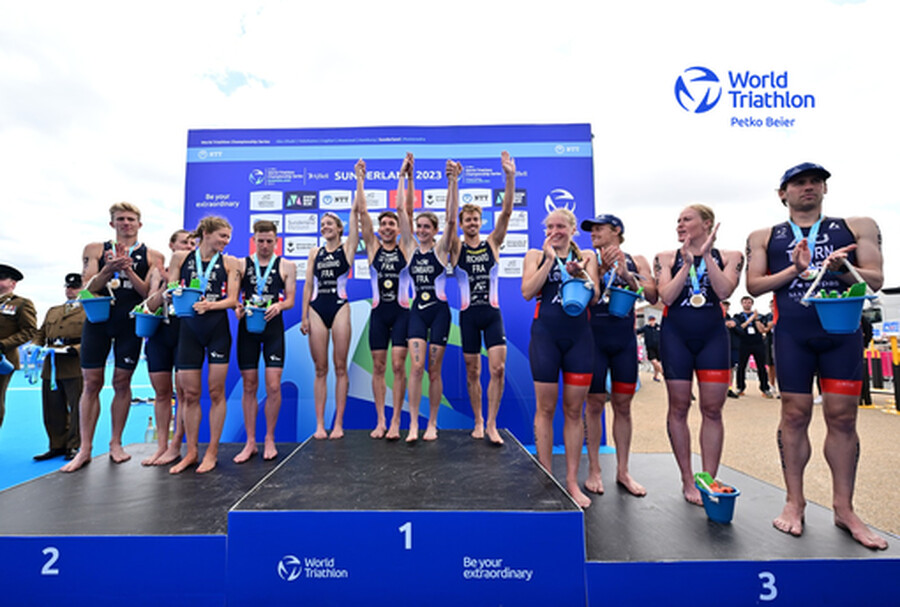 WTS SUNDERLAND: OUR FRENCH TRIATHLETES ADORNED WITH SUCCESS!
The French team achieved excellent results this weekend at the WTCS stage in Sunderland, England. These results are very promising as they prepare for the upcoming Test Event in Paris in mid-August.
Both the men's and women's teams secured two doubles: Pierre Le Corre and Léo Bergère, who sprinted to victory, claimed the gold and silver medals, respectively, with New Zealander Hayden Wilde taking third place. In the women's category, Cassandre Beaugrand outperformed her teammate Emma Lombardi towards the end of the race, resulting in a French one-two finish, while Léonie Périault secured the 4th position on the podium.
Following these two doubles, the French team, comprised of Tom Richard, Emma Lombardi, Pierre Le Corre, and Cassandre Beaugrand, repeated their success by winning the mixed relay, ending the weekend on a high note!
Onward to Paris 2024!
You can find images of the race and the athletes from our various partner federations in the attached album!